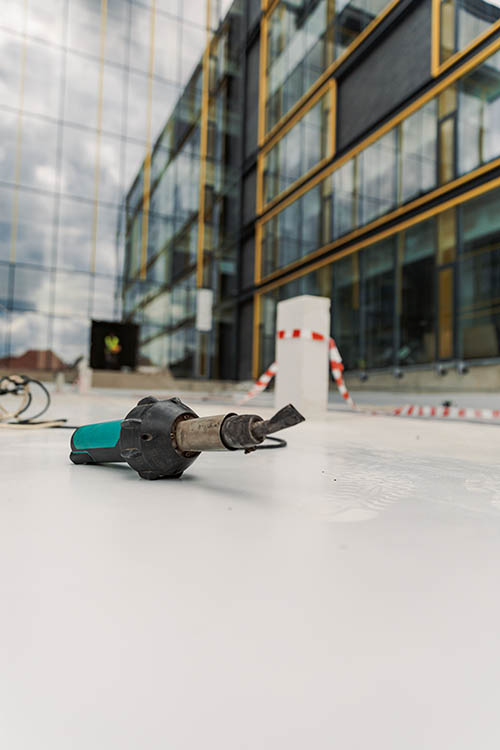 Whether an Omaha business wants to get more life out of their commercial roof system or to improve a certain aspect of their roofing, a commercial roof coating is a cost-effective roof repair option. Moose Roofing, Omaha NE's trusted commercial roofers, offer a variety of state of the art roof coatings that can add value and protection to your roof system.
Quality Commercial Roof Coatings from Moose Roofing
As reputable experienced roofers, the Moose Roofing crew is dedicated to helping Omaha business owners improve and repair their commercial roofing systems with cost-effective roof coatings.
Benefits of Flat Roof Coatings
The purpose of a roof coating is to protect the roof system from weather conditions and fire hazards, but it offers other benefits such as:
Waterproofing
UV ray resistance
Mold resistance
Minimizes temperature changes
Lightweight addition to a flat roof system
Cost effective
Different Types of Commercial Roof Coatings
There are options when it comes to roof coatings that can offer different benefits or that are recommended for different types of commercial roofing systems.
Water-based acrylic roof coatings come in a variety of colors and are generally used for UV ray resistance.
Polyurethane coatings are very strong and therefore highly resistant to wear and tear, making them great for areas where there's hail.
Silicone roof coatings are highly UV reflective as well as waterproof, making them an increasingly popular choice for commercial roofs.
Moose Roofing: Best Commercial Roof Services in Omaha NE
Our expert roofers have a combined decades of experience with all kinds of roofing from residential roof replacement to commercial roof repair services like roof coatings.
Ready to upgrade your commercial roof with a state of the art roof coating? Contact Moose Roofing to learn about commercial roof coatings!