The Story of Moose
At Moose Roofing, we understand that your home is not just your biggest asset, it's your refuge and protection for your family. To best protect your investment and your family, you need a solid, well-constructed roof, so we've made it our mission to help Nebraska homeowners protect their families and assets with superior roofing services.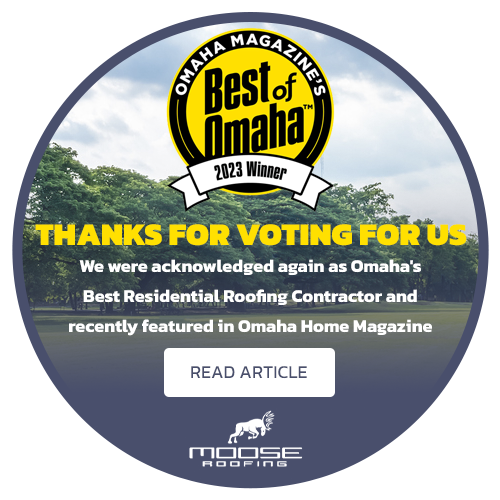 Our Mission
Founded in 1996, Moose Roofing is a family roofing company with over thirty years in the industry, and we're dedicated to making sure our neighbors around Omaha NE are protected by the best roofing in the industry.
Do The Right Thing – Our goal is to always do the right thing, to go above and beyond for every customer, every time. This means that we center our focus on customer needs, helping them navigate the confusing process of homeowners insurance and maintaining communication throughout every roofing project.
Educate The Client – We also understand how frustrating and confusing roof replacement or storm damage repair can be for Omaha homeowners, so we work hard to make sure our clients understand every aspect of their roof and what we're going to do to fix it. We want people to have all the information about not just the work we are planning to do, but what they can expect out of it for the rest of their time in the home. If they choose another business, we want them to know the facts in plain language so they aren't going to be oversold or taken advantage of.
Provide The Most Durable Roofing Materials – Nebraska is known for severe weather at all times of the year, and the Moose Roofing professionals understand that we have to use only the highest quality durable roofing materials on every job. We want to make sure that every roof we install or repair is going to last, even through Omaha's winds and hail storms.
Quick & Painless Roof Installation Without Cutting Corners – With Moose Roofing, you can rest assured that the entire roof repair, roof replacement, or installation process will go smoothly and that, when it's done, you'll be left with a roof that will last for decades. We want each home or commercial building we put our name on to be beautiful, but we also want it to perform well and to last. A roof is a big expenditure, and we don't want to see our customers having to deal with it again and again. We take our time and make sure that once we leave, our customers won't have to keep calling us back to fix something we missed.
Ready to protect your investment with a new roof? Moose Roofing is waiting for your call!