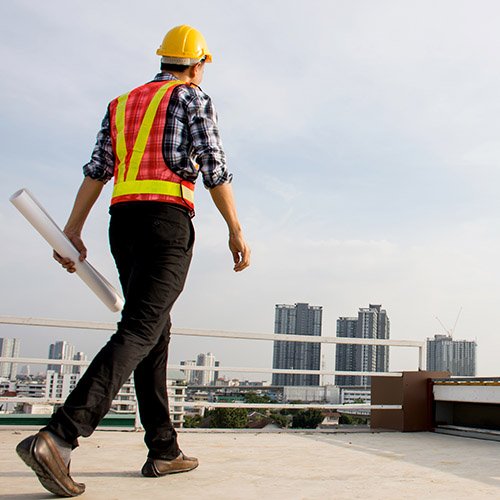 When it comes to roofing, businesses deserve the same level of service as Omaha homeowners. The commercial roofing experts at Moose Roofing are here to make that happen, offering the most technologically advanced roofing options for commercial roofs, whether they're flat roofs or sloped roofs.
Omaha Commercial Roofing Experts: Moose Roofing
Our experience with a wide variety of roof systems allows the expert roofers at Moose Roofing to help Omaha business owners protect their assets with high quality commercial roof systems, including gutters. As an Owens Corning Roofing Platinum Preferred Contractor, we have access to the latest, state of the art commercial roofing materials.
Commercial Flat Roofing Options

Because they allow access to HVAC units and signage, many commercial buildings have low slope or flat roofs. These types of roofs require specific types of roofing materials that are designed to be totally waterproof, energy efficient, and lightweight. Some flat roof systems are made up of traditional asphalt-impregnated fabric layers, such as modified bitumen or built-up roofing, while others are made from specialized plastic and rubber membranes, such as EPDM and TPO roofing.

Pitched Commercial Roofs

Some commercial buildings have pitched roofs, or a roof design with a slope, so they can be replaced and repaired using traditional roofing materials like shingles or metal roofing panels. With years of experience with residential roofing services, our roofing crew can get your commercial roof back to full function using only the highest quality roofing materials and top notch workmanship.
Moose Roofing Commercial Roofing Services: Repair and Maintenance
Not only do we offer new roof installations and roof replacements for commercial buildings, but we can also repair your commercial roof, no matter what kind of roofing system you have. Storms damage businesses as well as residential homes, and we're also there for Omaha business owners with commercial storm damage repair and commercial roof leak repairs, as well as regular maintenance services like roof coatings. We'll make sure your business is thoroughly protected from the elements and that you save money on energy costs.
Protect your business with the best roof systems in Omaha! Contact Moose Roofing to discuss your commercial roofing options!