YOUR GUTTERS ARE MORE IMPORTANT THAN YOU THINK
A lot of people don't think gutters are a big deal, but if they are damaged or not done properly it creates a huge and expensive mess.
Why should you have Moose Roofing repair your gutters?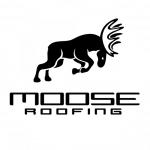 Our Omaha Gutters
The standard aluminum gauge is .027 Moose Roofing uses .032 which is the heaviest and the most durable gauge.
Moose Roofing installs 3×4 downspouts on every project to improve drainage.
Moose Roofing produces your seamless gutters on-site with premium pre-finished products.